If you have not heard of Penang, watch this
If there are things I refer to in my bars/rhymes/16s and you have not heard about it, here's the explanation►
Batu Ferringhi
Batu Ferringhi has a several large resort, like Rasa Sayang, Golden Sands, Park Royal, Bayview etc. It looks like a new village, but it's very old. It used to be a kampong with a little fishing village. If you want to see a part of this old village you have to turn right when you have passed the Park Royal. The main road runs more or less straight along the coast for 3km, on which all the hotels, tourist shop, internet cafe's, motorcycle rental offices and restaurants (House of Kampong, Deep Sea or The Last Drop e.o.), are lined up side by side. In the centre you'll find the Telekom office, post office, police station and clinic. It takes a thirty-minute bus ride west of Georgetown on Transitlink #202 or Transitlink air-con #93. There is a bus from the airport (Bayan Lepas) to Batu Ferringhi.
Gurney
Gurney Drive is a popular seafront promenade in Georgetown, Penang, Malaysia. The road is also one Penang's most popular tourist destinations, famous for the "hawker food" sold from food stalls formerly located along the seafront, now relocated close by. Previously known as the New Coast Road, it was completed in 1936 along what was then known as the North Beach, and renamed in 1952 after Sir Henry Gurney, British High Commissioner in Malaya (1950-1951), who was assassinated by the guerillas of the Malayan Communist Party during the Malayan Emergency.
Over the years, the beaches along Gurney Drive have largely been lost to coastal erosion. More recently, a land reclamation project at nearby Tanjung Tokong has reversed the erosion, leading to the accretion of silt and mud off Gurney Drive. Mangrove saplings have sprouted in the mud, which is now frequented by egrets and other birds as well as mudskippers. There have been suggestions that this area, formerly earmarked for reclamation under the (now suspended) Penang Outer Ring Road project, be reclaimed for a recreational park or allowed to develop into a mangrove forest.
P.Ramlee

Name: Teuku Zakaria Teuku Nyak Puteh @ Ramli Puteh
Known as: P Ramlee (since 1947)
Nationality:Malaysian
Birthplace: Grandmother's house at 40A Counter Hall *, Penang, Malaya
(* Renamed Jalan P Ramlee on 30 Aug 1983)
Profession:Actor, singer, comedian, songwriter, screenwriter and film director.
Career Highlights:
Travelled to Singapore on Idil Fitri to audition for Malay Film Productions of Jalan Ampas (8 Aug 1948). Moved to Kuala Lumpur to join Merdeka Film Productions of Ulu Klang (16 Apr 1964).
Awards:Various awards throughout career.
Film participation:
Asian Film Festivals (Hong Kong*, Jakarta, Kuala Lumpur*, Manila*, Seoul, Singapore, Taipeh* and Tokyo*)
International Film Festivals (Paris* and Berlin).
* Awards winning
Death:Died of heart attack at 5.30 a.m. on 29 May 1973 (Tuesday) at age 44.
Buried at muslim cemetary of Jalan Ampang in Kuala Lumpur.
Did you know► Yes, me & him attened Francis Light English School.
Head Porter
refers to my accessory I used daily basis when I wrote this track, visit headporter.co.jp.
Bruce Lee
(Lee Xiao Loong, Lee Jun Fan)
(1940-1973)
Bruce Lee was born in San Francisco on November 27, 1940 in the year of the Dragon while his father was on tour with the Chinese Opera.
Lee was raised, however, in Hong Kong where he began his first formal training in martial arts with Wing Chung Master, Yip Man when he was 13. At the age of 18, Bruce Lee returned to the United States and attended the University of Washington in Seatte where, as a philosophy student, he began to train students in the art of the Chinese Gung Fu. Lee met his wife Linda during this time and opened his first school, the Jun Fan Gung Fu Institute.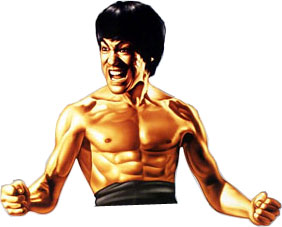 Lee later opened schools in Oakland and Los Angeles while he and Linda raised their son, Brandon, and daughter, Shannon. Lee quickly began to develop new ideas about martial arts and training based on many of his experiences, leading him to the creation of his own art called Jeet Kune Do. Bruce Lee went on to train many private celebrity students, such as Steve McQueen and James Coburn, and became a celebrity in his own right with his entree into American media via The Green Hornet and, of course, his later films, which catapuulted him to iconic status. Bruce Lee's life, however, was cut short when he died on July 20, 1973 in Hong Kong from a cerebral edema caused by an allergic reaction to a pain medication. Lee was 32. His final resting place is Lakeview Cemetary in Seattle, Washington.
via brucelee.com
Fear Not Death
refers to my tattoo
I'm serenading on this Point Blanc's beat
It is stated that Point Blanc made the beat for this track after I chose the sample for this track. The first beat for
Penang Kia
sounds too much like a Superman theme song.
I wrote the the bridge without thinking at Mandy's crib in less than 10 minutes time, I think less. This happens about about 1 hour before studio time.
My friends from Penang knows that since back then, about the y2K era, I've been talking/saying I'll do a song about Penang, I did it. Hopefully the guerrilla video will be enjoyed as well. If I receive dope beats for free, I'll talk business as well cuz I wanna do more dope songs if possible.
I did not click to get this view if that's what your thinking now.
True Story
,I only perfom this song live 1 time so far without practice cuz it happens unknowningly.
Dear Lord & world, thnx to every1 who ever click on it, with just a day play on XFM radio, Malaysian Hip-Hop feature almost 10K, many thanx cuz I aint shit without a click from u, THANK U !!!