Saturday, April 30, 2011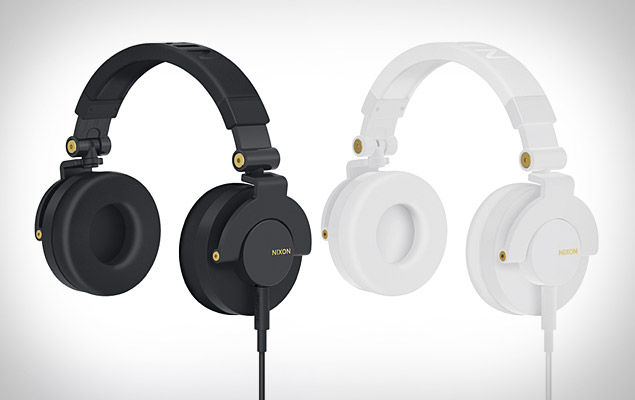 Designed for DJs, the Nixon RPM Headphones ($200) blend hefty electronics with simple, oversized-looking aesthetics that wouldn't look out of place in a cartoon — and we mean that in a good way. Highlights include custom 40mm drivers, articulating joints, gel-filled ear cushions, an interlocking coiled cable, and an additional iPhone-compatible cable with remote and mic for those times when you have to listen to something other than music.
Via uncrate.com
Posted by

Excaliber
at Saturday, April 30, 2011
No comments:
Links to this post

Friday, April 29, 2011
at the moment it has 2,458,533 dislikes via
youtube.com
MHL by Margaret Howell has collaborated with Converse on the Chuck Taylor Hi. The outcome are two washed canvas colorways of the iconic sneaker, with the MHL logo only appearing on the in-sole. All in all a very simple sneaker, in line with the general look of the MHL collection. The sneakers are expected to release June 2011.
Via highsnobiety.com
Pledis Entertainment released the concluding chapter with the MV for "Let's Step Up".
Ocean World's very own girl group, 'Ocean Girls', have released their debut single, "Ride Now."
As endorsement models for Vivaldi Park's Ocean World, Park Han Byul, Lee Chae Young, Lee Tae Im, Jang Ji Eun, and Jeon Eun Mi collaborated for a promotional remake of Psy's hit track, "Right Now."
Via
allkpop.com
The Pik Pik Flat ($1,195) is without question one of the most unforgettable sneakers the Christian Louboutin brand has ever released, so it was only right that we took a closer look. Sarcastically described as a shoe that would kill, the Pik Pik from the Spring/Summer 2011 Men's Shoe Collection features black leather that is covered with spiked studs of various sizes and shapes.
Via upscalehype.com
Via pickyourshoes.com
via pickyourshoes.com
by VITALSIGN via
allkpop.com
KARA(カラ)'s Nicole, Seungyeon, and Jiyoung have officially reached a compromise with DSP Media today, finally putting an end to their months-long lawsuit.
On April 28th, a representative of the industry spoke through SPN and stated, "Under the arbitration of Tae Jin Ah, the lawyers of KARA's three members and DSP Media have reached a final compromise."
Tae Jin Ah said, "I have received signatures agreeing to a compromise from both parties; please congratulate this achievement. I would like to thank all of the fans that have worried over the situation."
DSP Media announced, "All disputes between DSP Media and KARA's three members have been resolved, and we have all reached a compromise where KARA will be able to continue promoting as five."
They continued, "We discussed mainly about KARA's future, and an agreement was reached where the three would drop their lawsuit without any conditions. We would like to thank our fans for supporting the girls without change, and promise to work hard to show improvement."
Source: SPN via Nate, Newsen via Nate
KARA(カラ) on twitter► @kkangjii @fateflysy @gyuri88 @_sweethara
Apple today announced that the white iPhone 4 will be available beginning tomorrow. The iPhone 4 is the most innovative phone in the world, featuring Apple's stunning Retina Display – the highest resolution display ever built into a phone resulting in super crisp text, images and video – and FaceTime, which makes video calling a reality. Availability will come at a suggested retail price of $199 USD for the 16GB model and $299 USD for the 32GB model with a new two-year agreement. The white iPhone 4 models will be available from Apple's online store, at Apple's retail stores, AT&T and Verizon Wireless stores, and select Apple authorized resellers.
Via hypebeast.com
Scorpio III
November 12 -18
Charm
The Scorpio III period takes Charm as its central image. In the Scorpio III period intense emotion may be used with telling effect to gain positive and constructive results, but equally well may be expended in furthering egotistical and narcissistic ends.
The days which comprise Scorpio III symbolically reveal attractive powers and the ability to forward aims (but also gain satisfaction) through investigation, observation, seductive charm and a judicious use of leadership skills. Expressive emotions may be directed constructively as a powerful tool for inspiring others but should not be exercised as a controlling mechanism. Instead, by gaining the trust of co-workers, employees or clients, an emotional bond can be formed which promotes success for all concerned.
The Scorpio III Personality
Scorpio III people tend to be highly magnetic, sensual and charming. Thus the responsibility of those born in this period toward their fellow human beings is very great, though they do not always realize this fact. Should their ethical orientation be less than admirable, they are likely to selfishly use others to further their own ends and perhaps do great damage. Thus, clarifying a healthy working philosophy or moral stance which asserts human values and respects the wishes of others is an essential task for Scorpio III's from the outset.
Many born in this period seek to be the boss or leader whether at home or at work. In most respects, they are well qualified for such positions of responsibility. Usually Scorpio III bosses are in touch with the emotional needs of those they command, and although they may be highly demanding, they can usually impose rules and delegate responsibilities in an objective fashion which can be easily accepted.
Scorpio III's have highly developed sensuality which not only tends to attract others but leads them to seek out a variety of physically satisfying experiences. Spoiling themselves can become a way of life for those born in the Scorpio III period- particularly satisfying for them are the pleasures of vacations and travel, where the experiencing of new-found joys can figure prominently.
The inner stability of Scorpio III's is usually so great that it seems like it would take an earthquake to knock them off balance. Part of the reason for this is self-control, another part a realistic assessment of their capabilities which keeps them from venturing beyond their limitations. On the other hand, Scorpio III's may have to remind themselves from time to time to take more chances, to truly dare to fall and thus be able to reach new heights.
Perhaps the people who have the strongest influence on Scorpio III's are those who are less under their sway, less bowled over by their charm or magnetic qualities. Indeed, Scorpio III's need at least one good friend who can furnish honest, objective advice and criticism.
via
Celebrating the 25th anniversary of Super Mario, Converse Japan got together with Nintendo on two Chuck Taylor Hi's. The sneakers come in black and white canvas, featuring an all-over Super Mario print pattern, along with further Mario details on the tongue tag and side-panel print tag. The sneakers are set for a release July 2011.
Via highsnobiety.com
Watch also: